Don't run with Scissors....Dance Instead.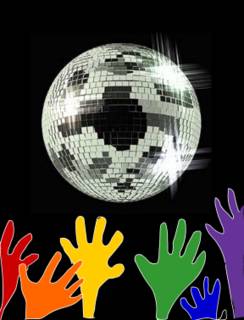 I wish I had a gold sequined halter neck top to wear to the Scissor Sisters, alas I was all out and had to make do with knitted arm cuffs. Didn't stop me from having one of the bestest nights in a LOOOOOOOONG time though.
May the Disco Gods Bless the Sisters, for they truly rocked out. There was a moment when I honestly thought I was under the influence of some illegal substance, for my feet wanted to move as did my booty.
Yep, I danced and danced. Danced in squadron formation with my mates.
Dan was my wing man and Sam was watching my tail. I whooped it up good and proper, those clever Sisters managed to get this 'non dancer' to whoop it up and scream for more and that has to say something.
The vibe was great before they graced the stage, some great mixing from the booth got me oohing and aahing. Who would have thought that Missy Elliot and The Cure worked so well together.
I feel a bit sorry for VHS or BETA, the supporting act. They found themselves sandwiched between excellent mixing and the Sisters, an awfully hard place to be. I felt like I was transported back to the mid 80's with all that hair and angst. A bastard love child of a threeway affair between early U2, The Cure and New Order, the sometimes tinny vocals left me wincing...Apart from that the night was wickedboo.
I am now a convert to the Sisters and wish to throw my undies up on stage the next time I see them. Unfortunately I doubt whether any of the members would be very interested in them, but it's worth it for the rock'n'roll appeal.
Now all I want to do is plan my next night on the town. Watch out New York, reinforce your dancefloors...